Dylan Thomas Prize: Seven debut writers on shortlist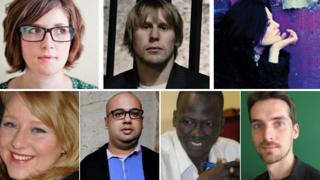 A record number of writers have been shortlisted for this year's Dylan Thomas Prize because of the strength of the entries, say judges.
Seven debut works - three novels, two poetry books and two short story collections - are vying for the £30,000 award, which started in 2006.
The Swansea-based prize normally features a shortlist of five or six.
The award is given to an author of a novel, play, poetry or travel book in the English language who is under 30.
The winner will be announced in November.
Judging panel chair Peter Florence said: "We had such a strong shortlist this year that we had to include a seventh title, as they are all contenders.
"In all my years on the judging panel of the prize, I've never seen a higher standard of entry from young writers."
Next year sees the centenary celebration of Swansea-born writer Thomas, whose global success was the catalyst for the launch of the prize.
It celebrates the legacy of a poet who wrote most of his work in his 20s.
It was set up initially as a biennial award - one of the world's highest paying literary prizes for young writers under 30.
Since then, the judges claim it has become a reliable guide to the best new literary talent by unearthing and recognising young writers from around the world.
The prize's chair, Peter Stead, said: "The seven books on this year's shortlist indicate the truly international scope of the Dylan Thomas Prize.
"There are two young poets - one English, one Welsh - and five prose writers from around the world whose stories take us to Nepal, war-torn Sudan, South Africa, Nevada and the Near East of Classical times.
"These are amazingly and accomplished books by writers who are all under 30 and who will be coming to Swansea to speak to aspiring young writers and to hear the judging panel's choice of winner."
The first winner was Rhondda writer Rachel Tresize, and her successors include Nam Le, a Vietnamese-born writer based in New York, Belfast writer Lucy Caldwell, and last year's winner Maggie Shipstead from California.
The 2013 prize judges include Hay Festival founder Mr Florence; author, singer and radio presenter Cerys Matthews; journalist and author Carolyn Hitt; and University of Texas English professor Kurt Heinzelman.
In addition to the prize money, the winner is also presented with a bronze cast of a young Dylan Thomas at the awards ceremony in Swansea.