Measles case in Neath Port Talbot prompts MMR vaccination plea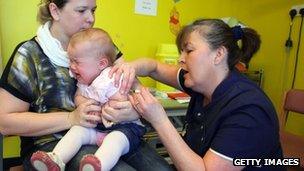 More than 200 children are being offered MMR vaccinations at a Neath Port Talbot high school after a fresh case of measles there.
Public Health Wales (PHW) said it has received two notifications of measles in pupils at Cwmtawe School with one case laboratory confirmed.
It comes three months after Wales' biggest measles outbreak ended.
The first cases in Swansea were reported last November before spreading to mid Wales.
More than 75,000 were vaccinated during the outbreak throughout Wales.
But experts say more than 30,000 children in the 10 to 18 age group still remain unvaccinated.
Abertawe Bro Morgannwg University Health Board is arranging for MMR vaccinations to be offered next week to all pupils at the school who are not fully vaccinated.
Of 1,260 pupils, 62 are recorded as having received no doses of the MMR vaccine and 142 have received only one dose.
Two doses are needed to provide the maximum 99% protection against measles, say experts.
PHW communicable disease control consultant Dr Jorg Hoffmann said: "This case of measles comes only three months after the end of Wales' biggest ever measles outbreak... so we are obviously concerned and want to act quickly.
"Although we vaccinated more than 75,000 people during the outbreak, we are aware of more than 30,000 children in the 10 to 18 age group who remain unvaccinated in Wales and have always warned that this could lead to another outbreak.
"We have written today to all parents of unvaccinated children in Cwmtawe School to urge them to arrange for their children to be vaccinated.
"In the meantime, to prevent the spread of infection, we would urge parents of any children who become unwell with measles-like symptoms over the weekend to keep them at home and seek medical advice, and not to allow them to attend events where other children will be present."
The symptoms of measles include a fever, fatigue, runny nose, conjunctivitis and a distinctive red rash.
By the time the outbreak was declared over after six months, it had resulted in 1,219 notifications of measles cases in the Abertawe Bro Morgannwg, Hywel Dda and Powys health board areas.
Some 88 people visited a hospital due to measles during the outbreak.
Gareth Colfer-Williams, 25, from Swansea, died from pneumonia after contracting measles at the height of the epidemic.
Related Internet Links
The BBC is not responsible for the content of external sites.