Swansea traveller sites in Cockett and Llansamlet recommended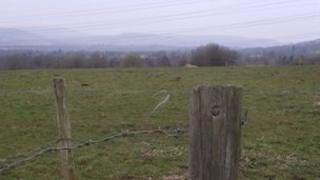 The site for a second permanent Gypsies and travellers' site in Swansea has been recommended for either Cockett or Llansamlet.
Five possible sites have been under consideration, including two in Gorseinon with the others in Penderry ward, Cockett and Llansamlet.
There is already an existing site in Llansamlet but it cannot be expanded.
A report is due to be published and councillors will discuss its recommendation on 21 October.
However, no final decision is expected until later in the year.
Swansea council leader David Phillips admitted the debate was going to be "divisive".
"It's understandable that people are concerned but a lot of the concern about things that they don't really know about," he told BBC Wales.
"The existing site at Pant-Y-Blawd Road behind Asda has not had a single complaint about it. Many people don't even know it's there.
"There are two families who have been living on the site for 40 years and their children have been to schools. They just want to live in a caravan.
"There's a misunderstanding of the issue. People confuse the illegal fly-parking on industrial estates with legal sites."
Swansea council said the Welsh government had insisted all local authorities in Wales look at the needs of Gypsies and Travellers "as part of its assessment of accommodation needs".
Residents had until 31 March to give their views and a number of campaigns have been launched in opposition to proposals in their areas.
The former greyhound racing track in Cockett and Peniel Green Road in Llansamlet are the sites that have been put forward as the preferred options.
'Cannot believe it'
A Swansea council spokesperson said: "Our latest assessment highlights a clear need for further accommodation for gypsy and traveller families living in Swansea.
"We had an excellent response to the consultation and all the views and comments received have been taken into account before reaching the next stage.
"Both Swansea Vale and the former Greyhound Stadium were considered the most suitable for a second site."
If the recommendations are approved, a further report will be taken forward for the council's cabinet to consider in November.
Hilary Jenkins, chair of protest group Llansamlet Against Second Travellers' Site (LA2TS), said: "I cannot believe it. I cannot understand [why] we are on that shortlist.
"It's rather strange that there's two on there rather than one place and we would've thought one place would stand out more than another."
The group submitted a 6,000-signature petition in March and feel a second traveller site should be somewhere else in the city, but dismissed suggestions of so-called nimbyism.
She added: "I personally have no problem with Gypsies and travellers but this field is overlooked by thousands of people, it is near the motorway and a railway line, and the travellers wouldn't get privacy.
"I understand why people would say nimbyism but I think the feeling among the residents is that they have been let down by Swansea council."
A group which campaigned against a site being located in one of two possible places in Gorseinon posted on its Facebook group: "While it is excellent news and gives us a temporary reprieve this decision is by no means final and the council could still go back to the other sites."