Health study call on dust from Tata Steel, Port Talbot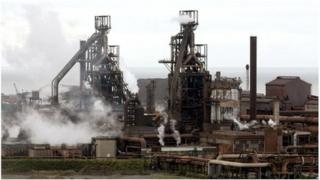 People living near a steelworks issued with an enforcement notice to prevent pollution should have their health studied, say local councillors.
Tata Steel said it has acted to stop pollution from its Port Talbot plant after black dust fell on homes in July.
Natural Resources Wales is investigating and still to decide if the problem has been resolved.
But one local councillor is calling for a medical study into air pollution and people's health in Neath Port Talbot.
Neath Port Talbot councillor John Rogers said he has heard health complaints for years.
Mr Rogers, who holds the council's community health portfolio, said damage from the dust fallout was still visible "but people are concerned about the long-term effects".
"People are concerned about the long-term effects," said Mr Rogers.
"It's always there, we're breathing this in. aren't we, and what is it going to do to us? I think we will have to do a bit of research to see if that backs people's thoughts up, you know, and find out what's happening."
Tata Steel promised to act following July's major fallout of black dust.
It altered production techniques and spent £800,000 on a device to wash dust off vehicle tyres.
But many people living close to the steel works said black soot continues to fall on their homes, cars and gardens.
David Wyn Rosser, 70, has lived less than a mile from the plant for 35 years and he said this year been one of the worst.
He said: "I don't think a survey's ever been done on respiratory cancers in this Taibach and Margam area say going back over the last 40 years.
"This dust is not acceptable in the modern climate."
Air pollution from Tata Steel, from other industries and the M4 may be factors in respiratory problems here but there's no known medical study making that link.
Swansea GP Dr Dai Lloyd said: "We have fairly high levels of asthma and bronchitis and chronic obstructive pulmonary disease - lung disease - in Wales anyway caused by a whole variety of factors, smoking being one, our industrial legacy being another.
"But also continuing air pollution is one of the others as well. Because we know that people who live by busy main roads, they have a higher tendency to have higher rates of asthma, bronchitis and similar diseases and that is related to pollution.
"So there are probably many factors playing together here, and it's difficult to prove it's the fault of any one given factor."
Welsh government statistics from 2010 on respiratory health show that Neath Port Talbot was above the Welsh average for deaths and new cancer registrations.
Women ranked third highest for deaths from lung cancer.
What is not clear is the role of air pollution in those results.
The council sends out emails and text messages to people with respiratory problems when air pollution levels go up.
In July, Public Health Wales warned that inhalation of dust could have an adverse impact on people with existing lung and heart problems.
A machine at Margam fire station which samples the air every 15 minutes shows the airborne dust particles measurement has exceeded EU limits on 14 days so far this year, more than all of the breaches for 2012.
It reverses a trend that saw breaches generally falling since 1999, a concern for Margam councillor Rob Jones who said something had obviously gone wrong to cause the breaches.
"I do think about it. When my grandson comes to town from Bristol and comes in from playing, with black feet, what health implications has that got?"
'Wet and windy'
Tata Steel said there was no evidence dust was causing short or long-term health problems.
It said it has had no breaches of limits in the past month.
So far this year it had breached limits 14 times, when the maximum permitted number in a year was 35.
Tata Steel spokesman Robert Dangerfield said: "We did have technical issues in July, but we've had better performance in August and that's despite the fact that it's been a relatively dry month.
"When it's windy and wet we don't have dust.
"The problem in July was a production bottleneck forcing us to store a lot of steel. When you pour hot steel into a cold storage tank it creates a lot of emissions."