Swansea Bay's 'time to shine' in UK city of culture bid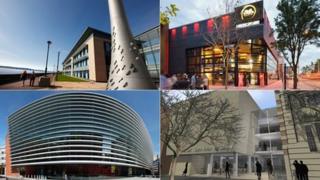 Wales' second city is finalising its bid to be named UK City of Culture 2017 title.
Swansea Bay will be in competition with Hull, Dundee and Leicester to win and host a year of cultural events, which could boost tourism.
The city is making a regional bid with Carmarthenshire, Neath and Port Talbot.
Welsh Secretary David Jones endorsed the proposal on a visit, saying it was a "time to shine" for the area.
Swansea must submit its final bid this month and the winner will be announced in November.
Programme ideas for 2017 so far include a Pete Ham Festival for unsigned musicians - named after the Swansea-born lead singer of Badfinger - and a high-tech interpretation of the historic Hafod Copperworks site.
Mr Jones visited the copper works site, as well as Taliesin Arts Centre and National Waterfront Museum on Friday.
He said: "I have been inspired by the vision and drive of the bid team, and I know that they will put forward the strongest case possible in the race for the title."
Councillor David Phillips, leader of Swansea council, added: "If Swansea Bay lands this prestigious status, it will benefit people across the region by offering a programme of affordable cultural events that will appeal to all ages and tastes."
He also said it would offer a "tremendous boost" for the area's economy.
Liverpool City Council commissioned a survey to measure the impact of winning European Capital of Culture in 2008.
It claimed the city received 9.7 million additional visitors resulted in more than £735m in additional visitor spend.
Mr Jones added: "Swansea Bay fully deserves the opportunity to fly the flag for Welsh culture in 2017... we wish the team every success."