Man hit by bus on Kingsway, Swansea, named as Daniel Foss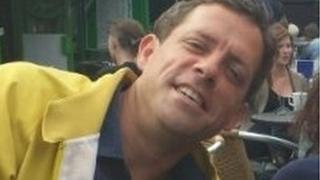 A man killed after being hit by a bus in Swansea city centre has been named.
Daniel Foss, 37, from Reynoldston, Gower, was struck by a National Express bus on the Kingsway at about 16:50 BST on Tuesday.
He was taken to the city's Morriston Hospital but later died from his injuries.
Mr Foss's family said it was devastated by the death of such a "special and tactile" person who "did not have an enemy in the world".
His family said in a statement: "Daniel was a big character, who was life and soul of the party. He loved life, and did not have an enemy in the world.
"Daniel was the most loving and tactile, special person, you could ever wish to meet. He was protective of friends and family."
"Daniel's family and friends are devastated by his loss."
South Wales Police has appealed for witnesses to call is 101 or Crimestoppers anonymously on 0800 555 111.