'Pregnant' dog Snickers from Gorseinon had eaten 140 stones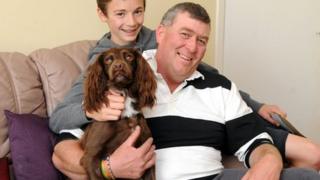 An owner who thought his dog could be pregnant was shocked to find the cocker spaniel cross had actually eaten more than 140 stones.
Snickers, from Gorseinon, near Swansea, had swallowed 1kg (2.2lb) of chippings from the driveway of owner Warren Jones.
When the three-and-a-half-year-old developed a large bulge an X-ray revealed the small stones.
Following an operation, Snickers is now recovering at home.
Mr Jones said: "We've never heard of anything like it - it showed her stomach full of stones.
"We've always thought she was nuts which is why we called her Snickers, after the chocolate bar.
"But we never expected her to actually swallow the stones.
"The operation cost a fair bit of money but we had to have it done."
Snickers is the family pet of son Ryan Jones, 12, who alerted his dad to the bulge.
Landscaper Mr Jones said: "Ryan was really worried and we had to take her to the vets, who said he was concerned something had gone into her intestine. So she had to have an operation."
The playful dog could regularly be seen chewing chippings from the driveway of the family home.
Instead of spitting them out she had been swallowing them, and when she was cut open around 140 of the chippings were retrieved from inside.
The operation was carried out by Susanne Ackroyd and Janet Mathews.
Ms Ackroyd said: "This was a bit unusual, it was a first for me. You could feel the stones grinding away.
"Fortunately the operation was not too difficult because they had gone straight into the stomach. If they had migrated through the bowel it would have been much more invasive.
"Fortunately, I understand that Snickers is doing well."