Beached Cefn Sidan yacht survives grounding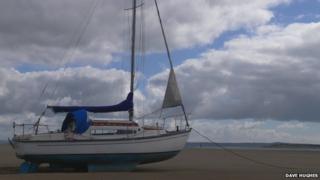 Yacht owner Noel Davies escaped becoming the latest victim of a notorious Carmarthenshire shoreline which has claimed hundreds of vessels over the years.
For a week his boat survived winds and waves after grounding on Cefn Sidan Beach while en route to Llansteffan.
Several attempts to refloat it failed before his luck and the tide turned a mile from the Pembrey beach entrance.
Mr Davies from Alltwen, Swansea Valley, said he had found it "nerve-wracking".
"I was worried the longer it went on that the sands would claim another victim," he added.
Mr Davies had been caught out by the long shelving along Pembrey beach that has a two-mile (3.2km) tide fall.
It has been the graveyard for an estimated 500 vessels over the centuries with winds blowing towards shore.
The 26ft (8m) twin keel leisure craft called the Kumango was left high and dry when grounding on the tide on 10 September.
The yacht attracted a lot of interest from walkers on the eight-mile (12.8km) stretch of beach where sands can shift in height by as much as 6ft (1.8m) in a day.
But with tides reduced since the stranding, there had not been enough water to attempt a re-float until Thursday morning.
It finally cut loose and was accompanied by Burry Port RNLI lifeboat crew to Burry Port Harbour where it will be prepared for repairs to its keel and rudder.
Recounting the grounding, Mr Davies said: "My progress was so slow I was overtaken by the out tide and left high and dry.
"Walking off Cefn Sidan was like trying to walk out of the Sahara Desert. It is vast and mind blowing."
The origin of one massive unknown wreck first reappeared from the sands in 1963, before two massive anchors surfaced in recent years.
The wreck has been carbon tested to the 1800s, and warm water pools form around it in summer months which are popular with bathers.
And it was the same type of pools which gathered around the stranded Kumango yacht and eventually helped save it.
Rather than being buried in the shifting sand, it started floating in its own pool before calm weather and a high tide helped it to sail out to the open sea.