RNLI laptop stolen from Port Talbot lifeboat station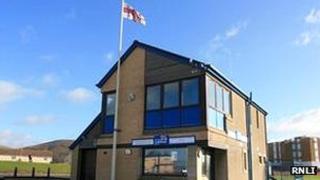 A laptop containing first aid training material for the RNLI has been stolen from a lifeboat station during a training session.
A mobile, credit card and cash were also taken from an upstairs room at Port Talbot RNLI station in Aberavon.
The computer belongs to a trainer who works with RNLI crews around the country.
There was nothing recorded on the station's CCTV cameras. Police are investigating.
The head launcher at the station, James Jennings, was taking part in the training when the thief struck on Sunday afternoon.
He said: "The crew were doing a first aid course on Friday, Saturday and Sunday downstairs at the station.
"When we came back upstairs, we noticed a mobile phone and laptop was gone."
'Pubs and shops'
Mr Jennings said the laptop was worth at least £500 and the mobile a few hundred pounds. A Visa credit card and £20 in cash were also stolen from a wallet.
Crew members have made inquiries locally to see if they can locate the missing items.
Mr Jennings said: "We have been everywhere - to the pubs and shops that sell stuff and there's nothing at the moment."
The laptop was security locked so whoever took it was unlikely to be able to access material on it, he added.
South Wales Police said they were investigating the burglary.
A spokesman said: "A Dell laptop and a Samsung mobile phone and a quantity of cash were taken."
He added the police had no leads at present.
A spokeswoman for the RNLI said: "As a charity which relies on voluntary contributions and legacies for income, the RNLI is shocked and saddened to have been a victim of theft, whilst our volunteer crew were undertaking essential training.
"Not only were our volunteer lifeboat crew targeted by having personal items stolen, but the laptop belonging to a full-time RNLI trainer was also taken, which is not only a cost to the charity but is also greatly inconvenient."