Rolling Stone Ronnie Wood joins Harry Patterson odd socks tribute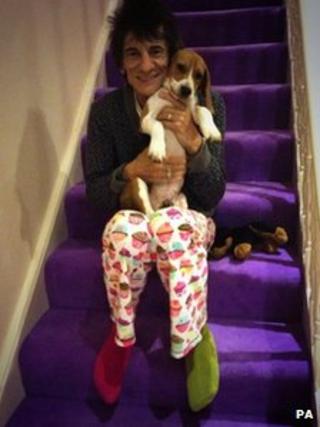 Rolling Stones guitarist Ronnie Wood has pledged his support to a fund launched in memory of a five-year-old boy killed in a driveway accident.
Harry Patterson was hit by the family car when it slipped down the drive at their Swansea Valley home in 2011.
Parents Christian and Michelle set up Harry's Fund in 2012 and have just held a "national odd socks day of adventure" or "nos da" - goodnight in Welsh.
Wood was among thousands of people who posted photos online wearing odd socks.
"Harry would've loved this. We are so grateful for the amazing response," Mr Patterson said.
Donations to Harry's Fund are being used to help disadvantaged children in their area, and to provide tailored support and counselling for other bereaved families.
An inquest heard that Harry suffered head injuries when he was hit by the Seat Altea while playing on the driveway in Alltwen in September 2011.
He had not long returned home in the car with his mother and elder brother, Dylan, when the accident happened.
The car's handbrake had been applied and Mrs Patterson also shook the car to check it was secure.
However, a combination of the driveway's steep incline, the vehicle not being parked in gear and the brakes' "slippage" as they cooled caused it to roll down and crush Harry.
A coroner later recorded a verdict of accidental death and called the incident "an appalling tragedy".
As well as seeking to keep Harry's memory alive through fundraising projects, his family has also launched the car safety campaign Park In Gear (Ping).
A Ping spokesman said: "Michelle and Christian had never known to park the car in gear and, although the handbrake was still on, a combination of a steep driveway, slippage of brakes and the car not being parked in gear caused this tragic accident.
"The investigating police officer at the inquest told the coroner that although it is in the Highway Code, people still do not know to park their car in gear.
"The Patterson family have learnt the hard way, but are now campaigning to make sure that everyone is aware of the safe way to park a vehicle in the hope that no other family will ever have to go through what they have."