Flats plan for Carmarthen's old infirmary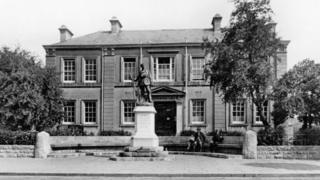 Councillors are to visit Carmarthen's old infirmary before making a decision on plans to convert it into 19 flats.
It shut in 1995 with part of the exterior demolished in 2002 to allow other flats to be developed nearby.
The former Carmarthenshire Infirmary opened in 1858 and became a listed building in 1981 due to its Italianate design.
Now, conversion plans have been submitted to Carmarthenshire council.
A planning report to councillors recommended approval for the plans and outlined serious concerns about the building's condition.
"Clearly the neglect of the building over the last decade or so has resulted in dereliction and severe dry rot infestation," it said.
"Most of the proposed works will compromise the building's special architectural and historic interest.
"Most of the works would not have been necessary had the building been repaired and maintained in good condition."
The planning committee has voted to hold a site visit before deciding on whether to agree the plans.