Plans to close seven public toilets in Pembrokeshire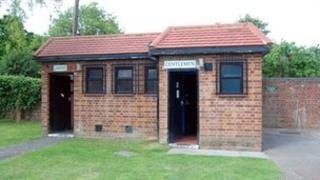 Plans have been revealed to close seven of Pembrokeshire's 93 public toilets in a bid to cut costs.
Pembrokeshire council said private companies and community councils had showed "no interest" in running the seven toilets following a consultation.
It proposes transferring the management of 19 other toilets to businesses or community councils, and will put the remaining 67 facilities out to tender.
Anyone wishing to express a view must do so by 7 October.
The council said it had the highest number of toilets per head in Wales "and probably the UK", costing £1.5m a year.
Following a consultation, it proposed transferring the management of 26 toilet blocks to local businesses or community councils.
However, it said no interest was expressed in seven of those.
It proposes closing the following facilities by November: Burton, Fishguard The Square, Milford Haven Manchester Square, Pembroke The Parade, Pembroke Black Horse, Pembroke Dock Front Street and Pembroke Dock Hobbs Point.
Huw George, cabinet member for environmental and regulatory services, said: "With substantial elements of funding ringfenced for aspects of education and social care, the pressure to make savings is falling predominantly on non-mandatory services such as public toilets.
"We recognise that public toilets play a role in supporting tourism and also that they are important to many people such as the elderly and disabled, which is why we are actively seeking alternative ways of running them."
The council said private companies would be likely to propose charges for their facilities.
Members of the public are invited to have their say via the council website.