Closure fears in education review at St Davids, Pembrokeshire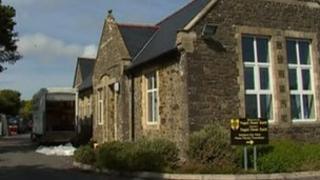 Buildings, spare places and performance will be looked at as part of a review of education at St Davids in Pembrokeshire.
It will include the city's secondary school Ysgol Dewi Sant.
Some parents are concerned the school could close in a bid to tackle surplus places in the secondary sector.
However, council leader Jamie Adams said the review was about "gathering information" and "not about conclusions".
He said no decisions had yet been made and added the review should be "an objective not an emotive process".
Council deputy leader Huw George said: "We'll be looking at the buildings, the financial background but also looking at outcomes and spare places.
"Specifically we're looking at the outcomes for the children, because that's what's driving us forward."
He said people should come forward to share their views on the plans.
"We want them to be part of this discussion, to come and help us move forward positively so that our young people get the best opportunity in education," he added.
A detailed report, outlining options and recommendations, will be presented to Pembrokeshire council's cabinet on 11 November.