New apps launched to connect with Swansea council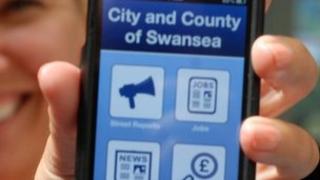 Residents living in Swansea are now able to report faulty street lights, apply for housing or find out about their child's school on two new apps.
Swansea council has launched the free services to help people interact with the authority.
The "My Council" and the "My Swansea Schools" apps can be downloaded to mobile phone and tablet devices but can also be accessed through digital TV.
Welsh versions are due to be released at a later date.
Christine Richards, Swansea council's cabinet member for community engagement, said: "The way people access council services and information is changing, so the council is responding to those changes to meet people's needs.
"Customers can use their mobiles, PCs or TV to get quick and easy access to the council and carry out every day business with us.
"Residents can use the apps to report street light failures but also to turn a spotlight on graffiti, fly-tipping and litter - all from the convenience of their smartphones or tablet computers.
"On top of that residents can also stay up to date with the latest jobs being advertised by the council and housing availability."
The new ways of interacting with the council come on top of the usual ways of getting in touch including face-to-face contact, over the phone and through the council website.