JCB used as hearse for digger man Billy Jones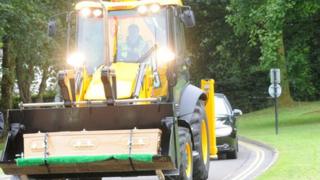 A man who drove a JCB for 40 years has been taken to his final resting place in the bucket of his digger.
The coffin of Billy Jones, 83, from Port Talbot, was transported to the crematorium at Bridgend in a specially cleaned and polished digger.
It was his last wish to travel to his funeral this way, his family said.
He had worked for Neath Port Talbot council and its predecessors for 40 years. His daughter said: "Everybody knew him as Billy the JCB driver."
Over 100 mourners at the crematorium clapped and cheered as Mr Jones's coffin arrived in the JCB.
His daughter, Trudi-Ann, 48, said: "He talked about his own funeral and this was what he wanted.
"When dad died we told the funeral director about dad's wishes and they said we could do it.
"He loved his working life - everyone would wave at him in the cab of his JCB.
"When he was driving along he would stop to give people lifts, that's how he was."
She said they had received dozens of sympathy cards and messages on Facebook.
"One card said: 'Billy will be a loss to the valley. He was one of the last characters who made our lives more enlightening'."