Unity miners share shifts to stop job losses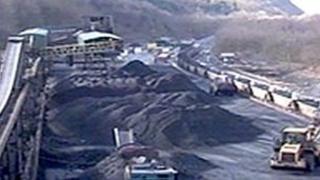 Workers at Wales' largest drift mine have offered to share shifts between all 220 workers after management said they only had work for 66.
It would mean workers at the Unity mine near Neath would only get on average a quarter of their previous pay but it would safeguard the pit's future.
The National Union of Miners (NUM) said it was not an ideal solution but it would provide a "breathing space".
Management said they needed to cut back because of a fall in world coal prices.
In addition, there have been problems over planning permission for a proposed opencast site.
The deal has been accepted in principle although details have yet to be worked out.
The mine at Cwmgwrach opened in 2007.
Wayne Thomas, the NUM's general secretary for south Wales, said the option to share shifts might not suit everyone but it was better than 150 having no wages at all.
"We don't know yet how it will pan out. It will suit some but not suit others," he said.
"During the next few weeks we'll be monitoring it and seeing what the best options are for individuals."
Mr Thomas added that not many people would have taken a collective decision to help their fellow workers, especially when many had young families and mortgages to pay.
"Some will end up with four, five, six days a week (work) because of their role due to safety whilst others may end up with one or two days per week.
"Now is that acceptable? If I was living with a young family with a mortgage it certainly isn't but we were facing today a decision of 150 being put onto no wages at all for the next three months, so that wasn't an option for us.
"This will give us breathing space to look into and consider week-by-week the developments in this mine," he added.