Haverfordwest tanker crash spilled diesel into brook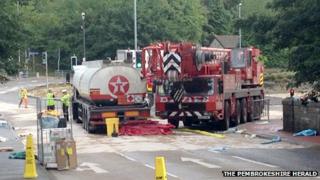 About 7,500 litres of diesel has spilled into a brook and drains after a petrol tanker was in a collision with a crane in Pembrokeshire on Friday.
Natural Resources Wales said it had been monitoring the brook near Merlins Bridge roundabout, Haverfordwest.
A spokesperson said there was a "sheen" on the water although it was hoped long-term damage would be avoided.
No-one was hurt but a substantial amount of fuel spilled into the road.
The tanker had 15,000 litres of diesel on board.
Mid and West Wales Fire and Rescue Service, Pembrokeshire County Council, Natural Resources Wales and highways officials are dealing with the clean-up.
The fire service's incident commander David Hancock said: "In spite of the environmental outcome of this collision, responding agencies did all they could to mitigate the effects of the spill.
"The environmental protection equipment provided by Natural Resources Wales for use in these incidents proved invaluable."
A spokesperson from Natural Resources Wales added: "Officers were on site yesterday morning (Monday) to remove the booms from Merlins brook which managed to contain some of the fuel after the incident on Friday.
"We've been monitoring conditions in the brook very closely over the weekend, and while a visible sheen has remained on the water, we haven't seen any evidence that this incident will cause any long-term damage."
All roads have since re-opened but the cause of the collision is still being investigated.