Missing 5ft pet lizard returns to Swansea home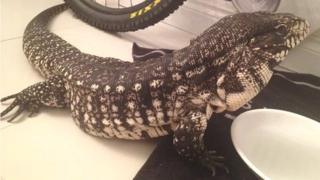 A 5ft (1.5m) long pet lizard that went missing from a Swansea garden after being let out of the house for some exercise has been found.
It disappeared from King Edwards Road at around 16:30 BST on Saturday.
South Wales Police made appeals for sightings of the lizard which has black and white scales to be reported.
But the force said on Monday that the lizard, which is not considered dangerous, has now been found and returned to its owner.