Dylan Thomas Prize: Playwright among twelve on longlist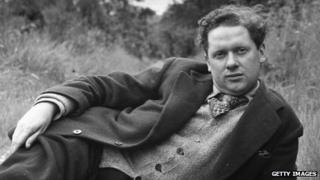 A playwright has been included in the longlist for the Swansea-based Dylan Thomas Prize for the first time.
The international prize list set up to seven years to encourage young writers features 12 contenders who come from places ranging from Australia to South Sudan.
Eight works of prose, three of poetry and one play go to the next stage.
The winner, who will be announced in November, will receive £30,000 and a statue of Thomas.
2014 sees the celebration of the centenary of the Swansea-born writer, whose worldwide literary success was the catalyst for the launch of the prize in 2006.
Historian Peter Stead, chair of the Swansea University sponsored prize, said: "This year's longlist is an eclectic list of considerable variety, taking us from war torn Sudan to the 2003 firestorms raging from British Columbia, with stops along the way in rioting Johannesburg, the scorched landscape of Nevada, and Hindu festivals in Darjeeling among other places."
Mr Stead, one of the driving forces behind the setting up of the prize, added: "Each year of the prize is different from the previous one, but this year the sheer volume of new talent we've discovered leaves me with a feeling that we are going to have an exceptional year.
"These are books that readers will definitely want to get their hands on."
Reliable guide
The Dylan Thomas Prize was set up in 2006, initially as a biennial award, as one of the world's highest paying literary awards for young writers under 30.
It celebrates the legacy of a poet who wrote most of his work in his twenties.
Since then, the judges claim it has become a reliable guide to the best new literary talent by unearthing and recognising young writers from around the world.
The first winner was Rhondda writer Rachel Tresize, and her successors include Nam Le, a Vietnamese-born writer based in New York, Belfast writer Lucy Caldwell, and last year's winner, Maggie Shipstead from California.
The 2013 prize judges include the Hay Festival founder Peter Florence; author, singer and radio presenter Cerys Matthews; journalist and author Carolyn Hitt; and University of Texas English professor Kurt Heinzelman.