Swansea marina: Auditors investigate Celtic Instrumentation land deal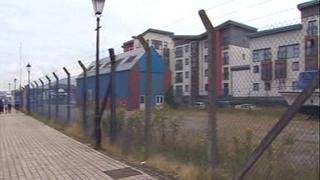 Auditors have been called in to investigate a land deal in Swansea marina agreed between the city council and a business tenant in 2011.
Celtic Instrumentation Ltd, which had been involved in boat maintenance, was given a 250-year lease in October 2011.
Last year it applied for permission to build 50 flats on the boatyard on Trawler Road.
The council said it was committed to transparency and has called in independent auditors to investigate.
Celtic Instrumentation has declined to comment during the planning process.
The plans for the four storey development also include a ground floor shop and a car park.
But Keith Evans, chair of the Maritime Quarter Residents Association, said there were already more than enough residential properties in the area.
"I think the general concern is the over-development of the maritime quarter currently," he said.
"If you walk around Swansea Maritime Quarter there are many 'for sale' and 'to let' boards around and basically the need is a major question."
Swansea council leader David Phillips said people had been questioning the disposal of the lease.
"Following my discussions with the chief executive it was agreed that this council would invite auditors to conduct an independent audit of the land disposal process in relation to the boatyard.
'Complain'
"This audit will put the matters beyond question once and for all.
"Only then will we be able to fully consider the planning application for this site."
The site earmarked for development is next door to a fish wholesaler.
Debora Rees, owner of Swansea Fish, is worried about the potential impact on her business.
"These people are not going to be happy living next to a fish market, having fish moved about at 4.30am," she said.
"Out the back we've got a smokery and we smoke during the night but these people are going to be on their balconies with smoke in the air.
"They're going to complain to the council and we have to a have a solution. I don't think there is a solution."
Robin Vaughan, whose company Cambrian Boats sells and repairs boats in the marina, said he had tried to continue operating the site as a boatyard but he had failed to reach a deal.
Mr Vaughan said businesses like his were being squeezed out of the marina to make room for more homes.
"We're still trying to expand elsewhere but there is nowhere else for us to go in Swansea marina which is going to mean at some point we will leave Swansea marina."
The application for the flats has not gone before the council's planning committee yet.
The Wales Audit Office confirmed that the chief executive of Swansea council had called Price Waterhouse Coopers to investigate the renegotiation of the lease.