Bangladeshi visitors learn lifesaving from RNLI on Gower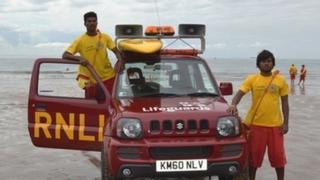 Two Bangladeshi lifesavers are taking part in four days of RNLI training exercises and patrols on beaches around Gower.
It is part of the charity's drive to tackle global drowning which it says claims 1.2 million lives a year.
Shahadat Hosen and Rashed Alam were invited to Wales by lifeguard assessor Darren Williams who has been to Bangladesh to train volunteers.
They said they were learning important new skills.
The pair, from the seaside town of Cox's Bazar on the south east coast of Bangladesh, are shadowing RNLI lifeguards and taking part in exercises to practice lifesaving skills.
Back home, Mr Hosen is a surfer who has been recruited to act as a lifeguard.
He said: "It was really good to see how the lifeguards set up their patrol zones and how they identified hazards like surfers and board users, and put up flags to identify the swim zone."
His colleague is a volunteer and vice-president of a lifesaving club in Bangladesh.
They plan to give talks in Bangladesh about lifesaving to educate people of the dangers.
They have already completed a two-week course at the RNLI's headquarters in Poole, Dorset, with 12 other trainees from Kenya, Malaysia, Sudan, Sri Lanka, Hong Kong and Singapore.
The pair were invited to train at Swansea by Mr Williams after he visited Bangladesh twice last year. He will also return there in October to mentor them further.
He said: "It's shocking that 1.2 million people are losing their lives to drowning around the world each year and yet, despite the extent of the problem, it is barely recognised as an issue and very little has so far been done to tackle it.
"The RNLI's international development work aims to equip lifesavers in other countries with important skills to help them save people from drowning."
He said not all the candidates had stayed on in the UK after the course in Poole.
"However as I have been to Bangladesh twice in the last two years and built a good relationship with the lifeguard trainers, I felt it would be an ideal opportunity for them to visit my home town as well as put some of the skills they learnt on the course into practice on the coast," he said.