Swansea's 'debauched' Wind Street defended by businesses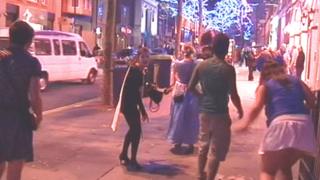 Claims that a city centre street is "an area of drunkenness and debauchery" have been criticised by a business leader.
Councillor Wendy Fitzgerald said Wind Street in Swansea is a "magnetic attraction" for drinkers.
But Russell Greenslade, chief executive of Swansea Business Improvement District (Bid), said business owners had spent thousands of pounds on improving it.
He insisted the street caters for all.
Mrs Fitzgerald made the comments at a Swansea council meeting on Tuesday.
But Mr Greenslade said: "I'm from Swansea - born and bred - and I work in the centre and we have been trying very hard to make the area a better place.
"We have taxi marshals and drop off points, for instance."
He said business people on Wind Street had taken Mrs Fitzgerald's comments "on board" but added: "There are restaurants and wine bars, we have a broad demographic and it caters for them all.
No-go area
"I don't know when she visited Wind Street last but all I know is that businesses have said to me, 'hang on a minute'. They've been working very hard."
But Mrs Fitzgerald said: "To be quite honest I haven't been to Wind Street of an evening for some time - it's a no-go area.
"On one of the occasions we have been there in the evening at a very nice restaurant and someone came up to the window and urinated against it.
"It's not a family friendly area in the evening."
Mrs Fitzgerald said Swansea council was "promised" the street would have a cafe-quarter style but the area has a "magnetic attraction" for people who want to consume as much alcohol as possible.
"It's a very difficult situation to deal with, I don't know what the answer is. It's a major problem."
Mrs Fitzgerald's comments came as councillors approved introducing a policy curbing new pub and club licences in the city centre.
The "cumulative impact" measures would halt new premises being granted licences around Wind Street, Kingsway, and High Street and College Road.
It followed a report by South Wales Police that showed there were 963 alcohol-related crimes in Wind Street alone in 2012-13.