Time stops for Swansea's Guildhall clock for two days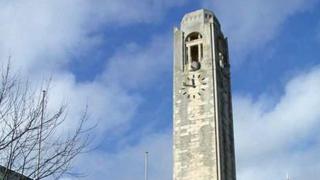 The clock at the top of Swansea's Guildhall tower is to be switched off for two days as it is cleaned following refurbishment.
The tower, which has been part of the city's skyline for over 75 years, has been cleaned and waterproofed.
It is part of wider restoration work of the Guildhall, which includes the Brangwyn Hall.
The hall has been closed for a year and work to protect the colourful murals is about to begin.
Named after the artist Sir Frank Brangwyn, whose murals are housed there, the Grade I-listed concert and conference venue is having its whole structure given a facelift, from its roof to windows and electrical wiring.
It will be the first time the murals have gone undercover since WWII.
Conservators have designed layers of special protective packaging which is being fitted by contractors under their supervision.
Once the final protective packaging is in place, the conservators will carry out routine inspections of the panels until the refurbishment works are complete next summer.
Nick Bradley, Swansea council's cabinet member for regeneration, said: "Our city is immensely proud of the Brangwyn panels and that's why we've brought in specialist conservators to make sure that they will be properly protected while building improvements take place.
"It'll be the first time since World War II that the panels will be closed off to public viewing, but this is a measure that's needed for their preservation so that people can continue to enjoy them in future.
"This latest phase of refurbishment is part of an overall project that will ensure our historic Guildhall continues to be a working building where we can serve our communities in years to come."