Wonga row prompts Church in Wales to say its funds are ethical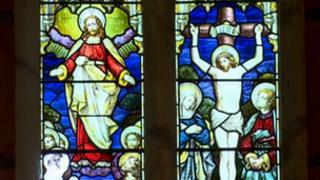 The Church in Wales has said its financial portfolios are regularly reviewed to ensure its funds are ethically invested.
It comes as it emerged that the Church of England (CoE) had indirectly invested in the payday lender, Wonga, through its pension fund.
Archbishop of Canterbury Justin Welby admitted he was "embarrassed" and "irritated".
The Church in Wales said its funds were invested in "appropriate companies".
The Bishop of Swansea and Brecon, John Davies, chair of the ethical investment committee for the Church in Wales, told BBC Wales: "The Church in Wales has an ethical investment policy which is regularly screened by its fund managers."
He said he was concerned some pay-day loan companies "preyed on the financially vulnerable".
'Church very concerned'
Carol Wardman, advisor to Welsh bishops, said: "At a local level, churches are actively involved in partnership with other community groups in setting up and running credit unions as well as debt counselling services and food banks.
"The Church in Wales is very concerned with these issues and will continue to be involved in offering practical help to those in need."
Retired vicar Andrew Morton, from Llangybi, Monmouthshire, said the Archbishop of Canterbury was right to want to force some pay-day loans companies out of business by urging people to use credit unions.
Mr Morton said: "This is not rocket science. These companies are charging huge amounts of interest to vulnerable people. The Church in Wales should be doing more to promote and expand its credit unions. This is part of our social gospel."
Pay-day firms offer short-term loans, often at high interest rates, and have been accused of leading people into more debt. They argue that they are popular, offering competitive loans at very short notice.
Archbishop Welby had earlier told Wonga the CoE would try to force the firm out of business by helping credit unions compete with it.
But the CofE later admitted it invested in funds that provided money for Wonga.