Post box attracts swarm of bees in Sketty as 'staging post'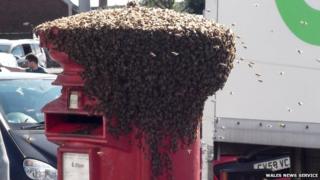 The sight of a large swarm of bees gathered on a pillar box in Swansea was enough to put anyone off from sending a letter.
Pictures have emerged of the bees covering the top of the post box in Parkway, Sketty.
The swarm remained on the box for around 20 minutes before leaving.
An expert has said the bees were using it as a "staging post" to get "themselves organised" while searching for a new home.
Local people were surprised to see the bees swarming on the post box on Tuesday.
One resident, Siany, posted a photo on Twitter to say it was "the most bizarre sight in Sketty".
Prof Pete Barrar, a director of the National Bee Keeping Centre Wales at Bodnant, Conwy, said it was very common to see swarms settling on spots such as trees, benches or fence posts, for instance.
"The colony will form that very typical pear-drop shape," said Prof Barrar.
"But then they would go out and the queen would be led to the new home."
Prof Barrar said anyone worried when they see a swarm would be able to contact their local beekeeping associations for help.
"Generally the bees in this situation are in good humour and won't sting, although you shouldn't go too close," he said.