Swansea tyre fire: Bosses who stored waste without permit jailed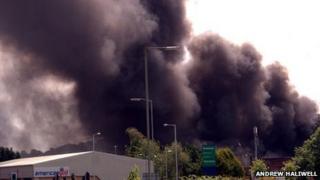 Two company directors have each been jailed for six months for storing more than 5,500 tonnes of waste tyres without a permit at a factory where a fire burned for three weeks.
The blaze at the former Mettoys site in Fforestfach, Swansea, happened in 2011.
Globally Greener Solutions directors Scott Phillips and Peter Thomas pleaded guilty in June before they were due to stand trial at Swansea Crown Court.
The cost of the blaze and removing all the tyres is estimated at £2.6m.
Judge Paul Thomas said: "Both of you bore onerous responsibilities, both of you plead ignorance, ignorance of course is no excuse, in offence it's an aggravating feature.
"Only an immediate custodial sentence can be justified. There is no room for recklessness in this sphere."
The court heard that the likely cause of the fire was accidental although arson could not be excluded.
The fire had created a "plume of smoke which had a serious impact on air quality" and the water used to fight the fire had polluted the nearby River Llan and Fforestfach stream.
"There was also "major traffic disruption" and congestion on the westbound carriageway of the M4 motorway.
Nicholas Jones, prosecuting, said the shredded tyre material was around "10-12ft thick in places" and posed a "significant fire risk."
A local firm - Tyregenics - had paid Globally Greener Solutions just over £260,000 to deposit the material at the building in Fforestfach.
The fire burnt for 23 days and around 58 fire appliances were needed in total to deal with the blaze, along with 45 fire fighters.
The court was told Phillips, 44, from Neath, and 66-year-old Thomas from Swansea, both admitted knowing or causing controlled waste to be deposited without an environmental permit.
They had planned to recycle the tyre waste into gravestones and bollards by adding a polymer to it.
The court heard that the Environment Agency had been tipped off about the tyre waste and were aware that it was being stored at the building in Fforestfach.
A plan had been prepared by the fire service and the Environment Agency in case the waste caught fire.
The probable cause of the fire on 16 June 2011, was an "accidental ignition source by persons unknown."
A unit next to the old Mettoys factory and also under the control of Globally Greener Solutions, contained hundreds of tonnes of mixed waste and dangerous chemicals which greated an "increased risk of further fire".
The operation to extinguish the fire had cost £1.6m and the cost of disposing of the shredded tyre waste, which is now being stored at Tata Steel in Port Talbot, was yet to be determined, but it has previously been estimated to be around £1m.
A third director, Dorothy Thomas, had formal not guilty verdicts recorded against her at an earlier hearing.