Llanelli swimmers warned of algae at North Dock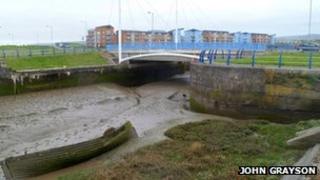 Swimmers are being urged not to go into the water at Llanelli's North Dock, after suspected blue-green algae was spotted there.
Carmarthenshire council said the suspected algae was spotted on Friday, and it could cause people or animals to become ill.
Algae is also believed to have killed 100 fish found in the River Loughor, which runs through Carmarthenshire.
Natural Resources Wales (NRW) believes the algae robbed pools of oxygen.
On the first incident, Carmarthenshire council said it had posted signs on Llanelli's North Dock, urging people not to swim or let animals in the water.
The council's head of public protection, Philip Davies, said: "We will continue to monitor conditions at the dock and other council-owned water courses closely and will be taking regular samples to test for levels of the algae in the water.
Brown trout
"We are working closely with all the relevant authorities to advise them on how to minimise the risk to both the environment and local people."
The council said the blue-green algae is a natural bloom caused by sunlight on areas like lakes and docks.
In a separate incident, NRW officers are investigating the death of 100 fish, which included brown trout and sea trout, in the River Loughor.
NRW said: "Initial indications suggest the deaths were caused by a growth of algae in the pools stripping the water of oxygen."
Officers have pumps on standby to aerate other pools if necessary.
A spokesperson added: "A change in the weather, with some rain forecast is likely to help the situation in the river."