Swansea student life uncovered by college researchers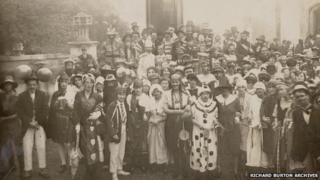 Students at Swansea University have delved into the past of their own students' union uncovering forgotten details of college life.
It includes speed-dating 1920s style, a 30-year cheaper beer campaign and a 1950s student newspaper article about dirty crockery and bad food.
Rules uncovered also reveal strict behavioural standards at a female halls of residence in the 'swinging 60s'.
The research was carried out during a history course at the university.
Sion Durham followed the course and won a prize from Archives Wales for his work, during which he uncovered details of a long running campaign by students to have their own bar.
He said the records show that the fight lasted 30 years, but their case was not helped by "one wild night in 1958 which ended up with lots of glasses being smashed".
"After this episode students needed to prove more than ever that they were trustworthy enough to run their own bar. In fact this didn't happen until 1988," he added.
'Original sources'
Other details unearthed include rules for female students at Beck House in 1965-6 where they had to "air rooms, make beds and wash up...and to ask permission from the warden if they wished to be away overnight".
On a serious note a 1980s plaque was unearthed opposing apartheid in south Africa.
It commemorates the visit of an African National Congress representative to the campus in 1985, when future South African president Nelson Mandela was still in jail.
Dr Louise Miskell, senior lecturer in history and classics at Swansea, said the idea was to design a module that gave students more practical experience of sharing their historical knowledge with the public, in order to help them find work when the course ends.
"Working with original sources is really important to Swansea, and when the Student Union records were deposited in the archive it was the perfect opportunity," she said.
"It meant students were able to look at minute books of meetings, student newspapers, and all the doings of previous generations of students at Swansea."
'Important role'
Dr Miskell said that student unions were now seen mainly as social places, but that was not always the case.
"They've also had a really important role in politics and campaigning over the years, which really comes across in the archive.
"This was a strong feature of the literature, exhibition and web material the students produced during the course of their studies," she said.
Swansea University archivist Elisabeth Bennett said the institution would be incomplete without the history of the students.
"Here at the Richard Burton Archives our aims are to preserve the records in our care and to help people use them," she said.
"It's great to see students using archives as part of their courses and there is a lot more potential for them to be used as we are open to the general public as well as staff and students."