Carmarthenshire blogger told to pay £230,000 legal costs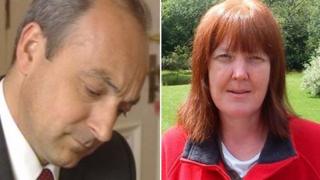 A Carmarthenshire blogger fears losing her home after being told to pay a £230,000 legal bill for a failed bid to sue a council chief executive.
Jacqui Thompson took action following a letter responding to criticism of Carmarthenshire council, after she was ejected from a meeting for filming.
But the High Court dismissed her claim back in March, and ordered her to pay £25,000 in damages to Mark James.
Mrs Thompson says she cannot pay the bill and is appealing the judgement.
"I don't have the money to pay," she said on Wednesday, after the legal costs in the dispute were awarded against her.
The legal bill represents about £190,000 for Carmarthenshire council to fight the libel allegation brought by Mrs Thompson, and a further £41,000 to launch its own counter-claim.
In addition, Mrs Thompson must also pay personal damages to Mr James.
But she said "I haven't got £25" - let alone the £25,000 in damages. She said she now feared losing her home as a result of the ruling.
"I haven't got any other option than to try the appeal and try and overturn it," she said.
"I still believe it was a miscarriage of justice - the contents of the judgement were devastating for me."
She said appeal papers will be lodged with the courts before 28 June.
During her court case in the spring, her lawyers had claimed her case was one of "state versus citizen".
But Mr James's legal team argued that Mrs Thompson had carried out a "wholly improper" campaign in her online blog.
'Regrettable' action
The legal spat developed after Mrs Thompson was removed from a council meeting and arrested after refusing to stop filming it in June 2011.
The court has been told that Mr James wrote a letter in response to Mrs Thompson's criticism of the council following the incident.
The letter was sent sent to 74 councillors and viewed 825 times after being republished on another blog.
But giving his written ruling in a reserved judgement after a series of hearings in London, Mr Justice Tugendhat said: "I have found that Mrs Thompson was engaged in an unlawful campaign of harassment, defamation and intimidation targeted against Mr James and other council officers."
In a statement regarding the legal costs, a spokesperson for Carmarthenshire council said it welcomed the High Court decision.
"It was right and proper that the council supported this action, where it emerged that Mrs Thompson had engaged in an unlawful campaign of harassment, defamation and intimidation targeted against Mr James and other council officers," the spokesperson said.
"Mrs Thompson started this action, and it is regrettable that due to this she has caused a huge amount of wasted time and money, and now finds herself in the position of having to pay costs too."