£40m Baglan 'super school' plan goes to consultation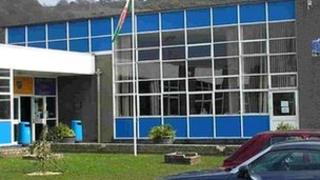 Plans for a £40m "all-through" English medium school in Neath Port Talbot are a step closer after a vote by councillors.
They backed proposals for one school to replace Cwrt Sart, Glanafan and Sandfields Comprehensive schools and incorporate Traethmelyn Primary School.
The new school in Baglan, with 1,500 secondary and primary pupil places, is planned for completion by 2016.
It is part of the local authority's £93m schools reorganisation programme.
The proposals go out for consultation for a month from 4 June.
The council identified seven projects over six years which it said are in line with the Welsh government's 21st Century Schools programme.
The proposals "super school" would incorporate pupils aged three to 16 in the Baglan area.
It would be built on council-owned on playing fields at Western Avenue, Baglan Moor.
'Modern facilities'
A report before the council's cabinet on Wednesday said all three comprehensive schools had a "significant" number of surplus places, while the proposed super-school would fall with the Welsh government's 10% target of surplus places.
It said the local authority had spent £100m on school repairs since 1996 but still faces a backlog costing £114m and rising.
It said: "Continuing to manage the school building estate on a 'patch and mend' basis does not represent best use of resources and, more importantly does not provide modern facilities for teaching and learning of the kind expected in the 21st Century.
"Within the new build there is also an opportunity to consider further on-site community provision such as the co-location of social workers, education support officers, together with professionals from external agencies in purpose-built flexible accommodation."