Jemima Nicholas: Jacqui Scarr plays Fishguard heroine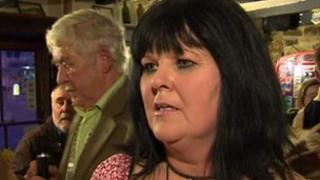 An actress playing the part of an 18th Century heroine said to have repelled the last invasion of Britain makes her debut in Pembrokeshire later.
Jemima Nicholas reputedly led a group of Welsh women in traditional costume to capture French soldiers who landed at Fishguard in 1797.
Jacqui Scarr, selected as the new Jemima last month, will appear at the town's folk festival.
Ms Scarr replaces Yvonne Fox, who died in 2010, as Jemima Nicholas.
She said she "hoped to keep the story alive".
Fishguard and Goodwick town council says there had been "huge support" for their efforts to find a new Jemima Nicholas following the death of Ms Fox.
The search for a new Jemima took place at the Royal Oak pub in Fishguard where the French army's surrender is said to have been negotiated.
The invasion force had landed in west Wales in 1797 with plans to attack Bristol and London, but they quickly descended into a drunken rabble.
It is said Jemima Nicholas tricked 1,200 troops into surrender by telling local women to dress in traditional Welsh costume to look like British soldiers, their red shawls and black hats where said to look like red coats of the British Army uniform.
She is also said to have single-handedly rounded-up a dozen French troops while armed with only a pitchfork.
Fishguard Folk Festival runs from Friday to Monday with the grand opening on Saturday.