Injured Swansea prison worker's claim for damages rejected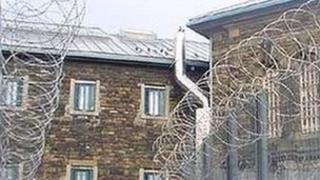 A Swansea prison catering manager who was seriously injured when an inmate dropped a 25kg (55lb) sack of food on her has lost her action for damages.
Susan Cox suffered agony in parts of her spine after the incident.
She argued that as the prisoner was paid for his work he was effectively a prison employee, and that the Ministry of Justice should be liable.
Judge Andrew Keyser QC said jail bosses were not liable for the prisoner's "disobedient and foolish" actions.
Swansea County Court heard Ms Cox, a catering manager at the prison for more than 10 years when she was injured in September 2007, had been supervising six prisoners as they carried food from a delivery van to the first floor kitchen.
Lost balance
One dropped a 25 kg bag of rice which burst, spilling its contents over the floor, the judge said.
Ms Cox ordered all the prisoners to stop moving before kneeling down to secure the bag, but was just about to straighten up when she heard a heavy thud on her upper back.
Judge Keyser said another prisoner had dropped a bag off his shoulder onto the catering manager's back when, carrying two bags, he hit his head on the wall and lost his balance as he walked past.
Afterwards, Ms Cox said she suffered agony in the thoracic and lumbar regions of her spine and pointed to evidence from an an orthopaedic surgeon.
As a result she started a claim for a "very large" sum in damages against the Ministry of Justice, the judge added.
Her barrister Robert O'Leary argued that the ministry should pay for the prisoner's negligence, saying its relationship to him was "materially similar to that of employer and employee."
But Judge Keyser dismissed the claim.
"The provision of work is a matter of prison discipline, of prisoners' rehabilitation, and perhaps, of the discharge of prisoners' obligation to the community," he said.
"Payment for the work is an 'element in the process of motivating prisoners', as the Prison Service Orders make clear. The position is not properly analogous to the employment situation."
He also rejected an alternative plea that the Ministry of Justice should be held liable for failing to ensure the prisoner was trained in manual handling.
But the judge said this allegation was "not of causal relevance to the accident" which arose out of the prisoner's own actions.