Caldey Island monks and residents get new 999 vehicle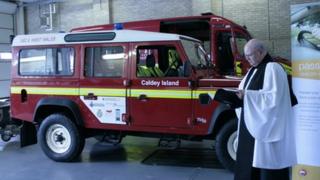 The monks and residents of Caldey Island off Pembrokeshire are to receive their first multipurpose emergency vehicle.
The customised Land Rover will act as a police car, ambulance, and - thanks to a water bowser trailer - a fire engine.
The island already has a conventional ambulance and fire engine, airlifted there in 2003.
The Land Rover's 4x4 capabilities will allow it to reach areas inaccessible to the existing vehicles.
Steve Bryant, Pembrokeshire commander for Mid and West Wales Fire and Rescue, said there had been very few serious incidents on Caldey over the last 70 years.
"But its isolated nature does make it vulnerable, and its safety and security has been of concern to us for some time," he said.
"We've undertaken an extensive programme of preventative measures there - offering advice to residents and inspecting industrial premises - and this multipurpose vehicle is the final part of the Caldey jigsaw for us."
The monks were once responsible for fighting fires on Caldey, but the duties have since been taken over by the fire service.
A crew of three islanders form the retained force of Caldey volunteer firefighters, backed up by others from the mainland on a rotating basis.
They help protect around 40 permanent residents, as well as the fluctuating population of Cistercian monks.
They also provide first aid cover for around 3,000 tourists every year.
Fire and flood
Buildings on the island include factories, farm buildings, churches, the Grade II listed abbey, and outlying monastic properties, and there is also a risk of grassfires.
The island was hit by a serious blaze in 1940 in which the monastery suffered extensive damage.
More recently, six firefighters were sent by boat from Tenby in December to help the volunteer crew tackle a flooded property following heavy rain.
When not on emergency duties, the Land Rover will also be available for the use of Natural Resources Wales, the Maritime and Coastguard Agency and Pembrokeshire County Council, who all contributed towards its purchase.
Mr Bryant added: "I'd like to thank our partner agencies in this venture.
"In these economic times none of us could have afforded to put the resources into Caldey which we'd have liked to, but by working together we've come up with a solution which is both effective and affordable."
Caldey Island estate manager Ben Childs said he was delighted that all the agencies involved had worked together "to provide Caldey with this very valuable resource".
"We have been fortunate that incident rates on the island have been low," he said.
"However it is very reassuring to know that in the event of an emergency occurring, visitors and residents at Caldey are as well provided for as their mainland counterparts."