Pembroke Dock plaque marks WWII Battle of the Atlantic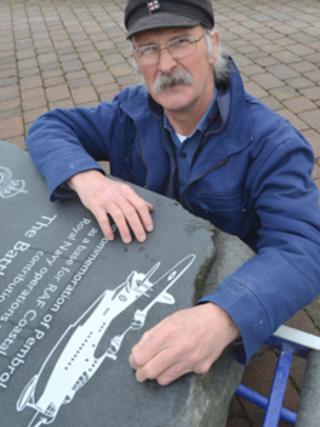 The contribution made by a Pembrokeshire port to defeating the U-boat menace in World War II has been honoured.
Pembroke Dock's Battle of the Atlantic weekend marks the 70th anniversary of a crucial month in the conflict.
It was the largest wartime station for the Sunderland flying boats which sought out and attacked U-boats.
A parade and service on Sunday concluded with the unveiling of a memorial plaque made of Welsh slate.
The Battle of the Atlantic was the longest continuous military campaign of WWII.
It was fought for the control of vital supply routes, beginning as war broke out in 1939.
Film shows
German submarines were the Allies' principal threat at sea, and Winston Churchill once wrote: "The only thing that really frightened me during the war was the U-boat peril."
More than 66,000 Allied merchant seamen, sailors and airmen lost their lives, with 175 Allied warships and 5,000 merchant ships destroyed by German U-boats.
Skirmishes in the Atlantic continued until the war ended in 1945, but the Allies sank particularly large numbers of U-boats in May 1943, effectively winning the Battle of the Atlantic.
Commemorations have taken place in London and Londonderry and are also planned in Liverpool.
Pembroke Dock was the base for the Sunderland flying boats, and at one time 99 of the planes were stationed at its RAF station.
Nearby Milford Haven was a major convoy assembly port as well as the base for naval escort vessels.
The events in Pembrokeshire were organised by the Pembroke Dock Sunderland Trust, which aims to recover a Mark I Sunderland which sank without casualties in a gale in 1940 and was discovered by divers decades later.
They coincided with a reunion by the veterans organisation Coastal Command and Maritime Air Association.
The commemorations included an open air service at the Dockyard Chapel as well as guided walks and film shows for visitors.
On Friday and Saturday, the West Wales Maritime History Society's yard and workshops at Front Street, Pembroke Dock, and the RAF Carew Cheriton Control Tower at Carew opened to the public.