Oxwich Bay: Cafe customer's alert over drifting dinghy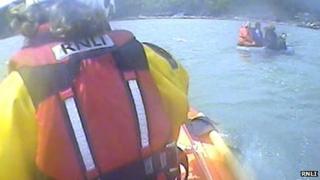 A cafe customer has raised the alarm after spotting four men in an inflatable dinghy who ended up clinging to a buoy and waving for help.
The group, from Barry, Vale of Glamorgan, were blown away from the shore of Oxwich Bay, Gower, near Swansea, on Saturday afternoon.
Coastguards say they were not wearing lifejackets or carrying flares.
An RNLI inshore lifeboat crew towed the men back to shore where a coastguard land team gave them safety advice.
Swansea Coastguard said the men, in their 20s and 30s, were caught out by strengthening winds which were reaching force six.
A spokesman said: "The person in the cafe could see four people in an inflatable dinghy waving for assistance.
"We launched Horton and Port Eynon RNLI inshore lifeboat and Oxwich coastguard team to assess.
"The lifeboat crew found the dinghy with the four men holding on to a buoy. Their anchor had drifted in the wind.
"They didn't have any lifejackets or flares with them.
"As well as carrying the correct safety equipment, you should always check the weather before you set out.
"An inflatable in that sort of wind is not safe at all."