Swansea measles: MMR schools vaccinations in west Wales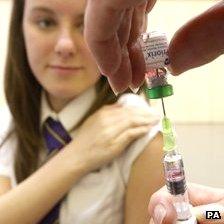 Immunisation against measles is being carried out in schools west of the main Swansea epidemic area for the first time.
The MMR vaccination is being offered to up to 4,000 secondary school pupils in Carmarthenshire, Pembrokeshire and Ceredigion over the next few weeks.
Vaccinations are also continuing in schools around Swansea.
Over 940 cases have been confirmed since the outbreak began in November, with 83 needing hospital treatment.
The Hywel Dda Health Board school nursing service is visiting secondary schools in Carmarthenshire, Pembrokeshire and Ceredigion to offer the vaccine to pupils who have not yet received the first or both MMR vaccinations.
Letters and consent forms are being sent, with the first vaccinations taking place on Monday, initially in east Carmarthenshire.
Teresa Owen, Hywel Dda director of public health, told BBC Wales: "We're a neighbouring area and Llanelli is very close with people travelling back and forth so it's a focus for us but we're keen to protect all the children across Hywel Dda.
"We're very grateful to parents for immunising their children as much as they have done already. It's the best thing that they can do."
The vaccinations will be carried out at all secondary schools but primary school pupils will also be targeted through their GPs.
"We continue to ask parents to make sure that all their children are vaccinated," said Ms Owen.
Vaccinations are also continuing in schools in the Abertawe Bro Morgannwg health board area, which consists of Swansea, Neath Port Talbot and Bridgend.
Other health boards are also targeting schools, including Cwm Taf which covers Rhondda Cynon Taf and Merthyr Tydfil.
Meanwhile, more than 2,500 people received MMR vaccinations in another weekend of special clinics.
Sessions were held in the Abertawe Bro Morgannwg area, while a first clinic took place in Llanelli, Carmarthenshire.
The high turnout was welcomed by health board officials.
The measles outbreak has been linked to one death so far - that of 25-year-old Gareth Colfer-Williams from Swansea - but further tests are to be carried out after a post-mortem examination proved inconclusive.
Mr Colfer-Williams, who had measles, was known to have had other health problems including asthma, his family has said.
Related Internet Links
The BBC is not responsible for the content of external sites.