Badfinger's Pete Ham: Beatle widow Olivia Harrison joins plaque tributes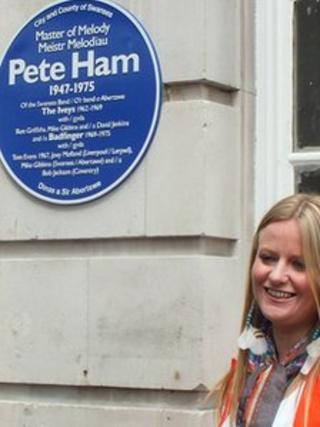 George Harrison's widow has joined tributes to a Swansea rock musician honoured with a blue plaque.
Pete Ham, who co-wrote Without You, a hit for both Harry Nilsson and Mariah Carey, worked with the Beatle while in the band Badfinger.
A blue plaque at the city's railway station was unveiled on Saturday, which would have been Ham's 66th birthday.
Olivia Harrison said George spoke about him "with fondness as a friend and with respect for his beautiful songs".
"I have had the pleasure of meeting Pete's family and, although I did not know Pete himself, his lyrics and recordings embody a gentle spirit and tender heart.
"Congratulations and love on this occasion."
The ceremony at the station entrance and a concert at the Grand Theatre is Swansea's own tribute to Ham who took his own life in 1975 at the age of 27.
Ham's daughter Petera, born a month after he died, performed the unveiling.
Badfinger signed to the Beatles' Apple label and enjoyed their biggest hit in 1970 with a Paul McCartney number, Come And Get It.
Without You was a number one hit around the world in 1972 for Harry Nilsson and has since been recorded by stars including Mariah Carey,
The blue plaque, the first to be unveiled in Swansea, is placed close to where Ham's band, previously known as The Iveys, practised before they became the first band to be signed by Apple Records.
An Apple Records spokesperson said: "Pete Ham was a creatively gifted songwriter and, together with Tom Evans, he wrote and created some unforgettable music."
Chris Thomas, who has also worked with The Beatles and Pink Floyd, produced three of Badfinger's albums.
"Pete was not only an extremely talented writer, he was also a great singer with a beautiful voice," he said.
"And if that wasn't enough, he was also an accomplished and occasionally fiery guitarist who provided piano parts on many of Badfinger's recordings.
"He had it all to achieve a long and distinguished career in music. Pete: wherever you are now, I send you my love and respect."
Badfinger's Bob Jackson, members of the Storys, Mal Pope, and two of The Iveys' original members, Ron Griffiths and David Jenkins, were among the line-up in the tribute concert.
In 2004, a guitar given to Ham in 1969 by George Harrison fetched £294,000 ($570,000) at auction in New York.