Swansea measles epidemic: Cases increase to 808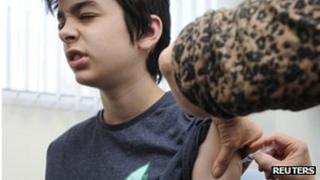 The number of measles cases in the Swansea epidemic has increased to 808, officials say.
Public Health Wales (PHW) said 43 more cases of the disease had been reported since Tuesday with 77 hospitalised since the outbreak began last November.
MMR jabs are being offered in schools in parts of mid and south Wales.
But the local health board in the main affected area of Swansea and Neath Port Talbot said the school campaign had got off to a "disappointing" start.
Dr Sara Hayes, director of public health for Abertawe Bro Morgannwg Health Board, said it was too early to assess the level of uptake following Wednesday's first day of vaccinations.
But she told BBC Radio Five Live: "You can imagine vaccinations being given in general practice and in drop-in sessions as well as in schools, so it's a moving target basically.
"But we think it's probably only about 30 to 40% uptake so far.
"We'll being doing much more analysis over the next few weeks but, yes, we are disappointed we didn't get a higher uptake on our first day so we're meeting today and tomorrow to see what we can do about it."
Dr Hayes said she did not know the reasons why more people had not been vaccinated but added more sessions will be taking place next weeks.
There will also be drop-in sessions for the third Saturday in a row at Morriston and Singleton Hospitals in Swansea, the Princess of Wales Hospital in Bridgend and Neath Port Talbot Hospital.
Last weekend around 2,500 people received the MMR vaccination at special clinics held across south Wales.
Other schools
PHW said although the outbreak was at present affecting the Abertawe Bro Morgannwg, Powys and Hywel Dda health board areas, there were cases of measles in every health board area in Wales.
But other areas including Powys is now offering vaccinations in all 13 secondary schools, while sessions have also been held at some Cardiff schools.
Other health boards will also offer catch-up clinics targeting schools with low vaccine uptake.
Dr Marion Lyons, PHW director of health protection, said: "We continue to offer unprecedented opportunities for parents to vaccinate their children against measles, but parents need to make sure they take these opportunities.
"Although we want children of all ages who have missed vaccinations to catch up now, we are particularly concerned about those aged between 10 and 18.
"These are the children who would have missed vaccination because of concerns about the safety of MMR in the late 1990s. The vaccine is safe, effective and the only protection against a potentially fatal disease.
"We can't bring this outbreak to an end unless the parents of unvaccinated children either arrange vaccination with their GP, call in to one of the weekend drop-in sessions or ensure that if their child attends a school where vaccinations are being offered, they have signed a consent form for them to be vaccinated."