Lower Loughor: Community fights back over dog mess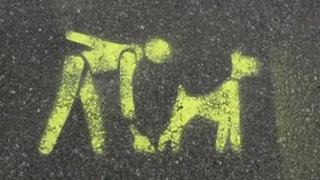 Residents of a Swansea community say they are "fighting back" to keep their area clean of dog mess.
Friends of Parc Williams, a local group in Lower Loughor, have enlisted the help of Swansea council to encourage dog owners to clean up after their pet.
Volunteers are being given training and equipment like poop scoops and collection bags.
Signs are also being posted in the area while extra dog mess bins and litter bins are being installed.
Eileen Bartlett from Friends of Parc Williams says the community is getting behind the project.
"The whole scheme has come from the people," she said.
"Everybody was complaining and saying the same thing that the streets are dirty and there is a terrible problem with dog mess.
"Already there's a large number of people who want to help keep the community free from litter and dog fouling.
"It's great to see so many people taking a pride in their community and we're hoping for great things.
"Some of our local volunteers have adopted locals areas for them to look after."
As well as providing training and equipment, Swansea council will also increase litter and dog fouling patrols as part of the Bag it! Bin it! campaign.
Council cabinet member June Burtonshaw said: "I want to pay tribute to the all people of Lower Loughor for standing up for their community.
"All too often people say dog fouling and littering is someone else's business.
"But we all have a responsibility to keep our environment tidy. If we all do the right thing our streets will be cleaner and brighter for it."