Gas tanker Zarga docks at Milford Haven to top up supply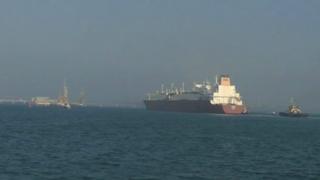 A giant gas tanker carrying enough fuel to supply the whole of the UK for six hours has docked at Milford Haven in Pembrokeshire.
The liquefied natural gas (LNG) ship Zarga is the second such vessel to have been diverted to Britain to top up gas reserves in the last couple of days.
The Zarga was carrying about 266,000 cubic metres of LNG.
It had been diverted to top up dwindling gas supplies depleted by the unseasonable chilly weather.
Cold snap
A second ship, the Mekaines, reached Kent on Sunday.
The long cold snap has sparked fears that the UK will run out of stored gas but one energy expert dismissed those concerns.
Between them, the ships have enough fuel to supply the UK's gas needs for up to 12 hours.
Some reports suggested that the cold weather could lead to the UK running out of gas within days although the UK government has denied this.
Zarga has sailed from Qatar and delivers to wherever the price is highest, which is currently the UK.
The ship is one of Qatar's Q-max tankers - the largest LNG tankers in the world - and 344m long (1,128 ft).
The South Hook LNG terminal in Milford Haven has the ability to meet up to 20% of the UK's current gas needs.