Three Carmarthen families win flooding court battle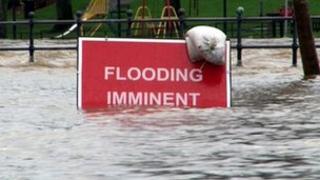 Three Carmarthenshire families facing a flood repair bill running into thousands of pounds have won a High Court case against them.
All three of the homes in Carmarthen suffered flood damage in 2009 and 2010.
Insurers agreed to pay out but after one firm contracted to carry out the work went bust, the householders were told they would have to pay the bill.
The claims against all three were thrown out by the High Court on Wednesday.
Samantha Turner, Sheila Munday and Martin Dalling had all put in claims with the insurance giant Zurich.
The High Court in London was told that Zurich instructed a firm called Rok Building Ltd to carry out the repairs, and paid the company for the work.
But Rok Building subcontracted the jobs to another building contractor - AJ Building.
'No regret'
AJ Building carried out the repairs - but before it was paid for the work, Rok Building went into administration.
AJ Building brought the case against the householders, claiming that as the three had signed mandates for the work, they were ultimately liable for the unpaid bills.
But dismissing the case, Judge Andrew Keyser QC the company had been the third and final link in a contractual chain and it would be wrong to make the householders bear the risk of the money paid by Zurich "disappearing in Rok's hands".
The home owners knew nothing of the background situation and, absolving them of all liability, the judge observed: "This conclusion would cause me no regret".
The court heard Miss Turner's home was damaged on 20 April 2009 when her dining room was flooded by a leak from her bathroom. Mrs Munday's home was flooded in September 2010 and Mr Dalling's home suffered storm damage in March that year.