Brechfa Forest wind farm: 28-turbine scheme given approval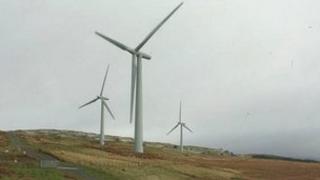 A controversial wind farm planned for Carmarthenshire has been granted approval by the UK government.
The 28 turbines measuring 475ft (145m) in Brechfa Forest West have been approved by the Energy and Climate Change Secretary Ed Davey.
Its size - over 50 megawatts - meant the decision lay with the UK rather than Welsh government.
Residents, local organisations and business groups have objected to the plans by RWE Npower.
Objectors have warned the wind farm development will damage local people's lives and the ecology and tourism of the area.
Developer RWE Npower expects the project to have the capacity to generate up to 84 megawatts, enough to power the equivalent of 39,700 homes.
The firm said the wind farm would inject up to £19m into the economy of south and south west Wales and support up to 224 jobs in the region during each year of construction.
Bethan Edwards, RWE Npower's project developer, said: "These important economic benefits continue through to the operation of the wind farm, with spending in the south and west Wales economy, the creation of jobs and local investment through the significant community benefit and economic development funds which we will develop in consultation with local people.
'Dismissed'
"Local community benefits will amount to around £560,000 per year over the life of the wind farm, depending upon the final installed capacity."
A Department of Energy and Climate Change spokesman said: "Onshore wind has an important role to play as part of a balanced energy mix.
"This development will enhance our energy security, help to reduce greenhouse gas emissions and create up to 150 construction jobs."
Carmarthen East and Dinefwr MP Jonathan Edwards claimed local opinion and genuine concerns about the project had been "dismissed".
"That is why decisions in relation to the exploitation of Welsh natural resources should be made in Wales," he added.
"I have significant worries regarding the proposed connection from the wind farm to the national grid."