Dylan Thomas Centre: Friends urged to share memories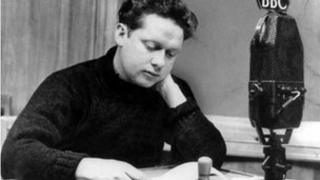 People who knew poet Dylan Thomas are being asked to come forward to help provide their memories for posterity.
They will form part of an improved interactive exhibition at the centre which is named after the writer in his home city of Swansea.
A £40,000 development grant from the Heritage Lottery Fund (HLF) will pay for this part of the project.
Next year is the centenary of Dylan Thomas' birth and a range of activities will celebrate the occasion.
His granddaughter Hannah Ellis, said: "This opportunity will allow them to achieve their vision of modernising their exhibition to ensure it is ever evolving, interactive and available in a digital format.
"It will also help them engage with the local communities and organisations, as well as connect with a variety of audiences of different ages and diverse backgrounds."
Officials will use the money to carry out research with what they say are the few people still alive who knew Thomas "to ensure these memories are saved for the future".
The poet died in November 1953, aged 39, and the Dylan Thomas Centre is home to a permanent exhibition celebrating his life.
It houses unique archive material, rare manuscripts, artwork, photographs, books and original sound recordings, but only 140 out of 950 artefacts are currently on display.
Touring exhibition
The grant will also allow the centre to give access to the wider collection and digitise the artefacts as well as refreshing the exhibition and interpretation to create an interactive learning experience.
Plans also include appointing staff to help develop writing workshops, events and activity packs, and a touring exhibition to visit schools, festivals and community venues.
Nick Bradley, Swansea council's cabinet member for regeneration, said: "Dylan Thomas is Swansea's most famous son whose worldwide legacy is enduring and it's vital we do all we can to mark, celebrate and promote his links with our city.
"This is especially the case as we head towards the centenary of his birth in 2014.
"We're delighted to have secured a development grant from the Heritage Lottery Fund which will allow us to further develop our proposals to secure additional funding in future."
HLF has previously invested £820,000 into the regeneration of Swansea's Cwmdonkin Park which was an important source of inspiration to the poet and featured in his poem, The Hunchback in the Park.
The work is due for completion at the end of 2013.