Capital One Cup final: Swansea City romp to record win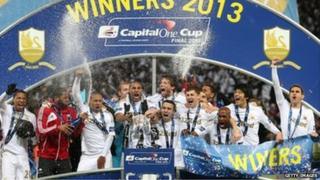 Thousands of Swansea City fans are celebrating one of the greatest days in the club's 100-year history after beating League Two Bradford City in the Capital Cup One final at Wembley.
The Swans romped home 5-0, the biggest win the competition has seen.
It caps a glorious centenary season with the club's first major trophy under new manager Michael Laudrup.
The players will be honoured with an open-top bus parade through Swansea and a civic reception on Tuesday.
Nathan Dyer scored twice, Michu one, and Jonathan de Guzman two more after Bradford's goalkeeper was sent off.
The result never seemed in doubt, with Dyer's goals in the 16th and 47th minutes, Michu after 39 minutes, and de Guzman in the 58th and 90th minutes.
The only slightly sour note was Dyer's anger that he was not allowed to take the penalty which could have given him a hat-trick, and he argued with de Guzman before finally relenting.
Asked after the final whistle how he felt about the penalty decision, Dyer said: "I wanted the hat-trick at a historic moment like this and I thought I should have got the ball, but it wasn't to be.
"But Swansea have come so far as a club and a city, for us to win is massive. The players have worked so hard."
Welsh assembly Presiding Officer Rosemary Butler was the first to offer her congratulations, calling it a "famous result" for the Swans.
'Footballing fairy story'
"It is the first time a Welsh club side has brought the League Cup back to Wales which means it is wider than the sport of football, it is an historic day for Welsh sport and one that will live on through the years to come," she said.
"I am so happy for the club's supporters and the residents of the city as a whole, and I suspect there will be a few sore heads in Swansea tomorrow morning."
First Minister Carwyn Jones communicated his congratulations via Twitter. "Superb #CapitalOneCup win for the Swans - their first major trophy! Well done! Europe awaits!"
Swansea council leader David Phillips, who was at Wembley, congratulated the team on their victory.
"The past few years have been a footballing fairy story for the Swans," he said.
"A decade ago Swansea was on the verge of dropping out of the Football League. But now this club is in the Premier League and is looking forward to European competition next year."
A convoy of coaches travelled from south Wales for a game which puts the Swans into the Europa League.
The Swans started favourites, and although their opponents had beaten three other Premier League sides en route to Wembley, the Welsh side dominated the game.
The club sold their allocation of 33,000 tickets for the final weeks ago.
Among the thousands cheering on the Swans was Ieuan Jones, from Carmarthen, who at 94 is thought to be their oldest fan. He has been following the club for 85 years and says he gets emotional every time.
Two of the Jack Army who thronged onto Wembley's Olympic Way before kick-off were Elfon, from Morriston, and Cher, from Swansea who left south Wales in the coach convoy at 06:00 GMT.
"I've been a fan for 30 years," Elfon told BBC Radio Wales. "I've seen them go up, go down and go back up again. I remember the days of Toshack.
"This is what I have been dreaming of for 30 years," he added.
Team mascot
Former Swansea goalkeeper Roger Freestone - a one-time temporary Swansea manager - called their Wembley appearance unbelievable.
"When you think 10 years ago they were down in the doldrums," said Freestone before the game. "They were 90 minutes away from being kicked out of the Football League.
"Now they are at Wembley, an established Premier League side, with a new stadium. It's looking so rosy."
Swansea director Martin Morgan said: "We're living the dream. Ten years ago were were playing Hartlepool. It's fantastic. It's a brilliant day out for Swansea, it's a brilliant day for Wales."
Swansea University professor Huw Bowen marshalled a group of 90 academics, known as the "Jackademics" and Swans supporters to Wembley for Sunday's final.
The team's mascot was 11-year-old Tyler Lucas, who won a competition to lead City out after producing a collage of his favourite player, left back Ben Davies, including a scarf.