Blogger and Carmarthenshire council in High Court libel fight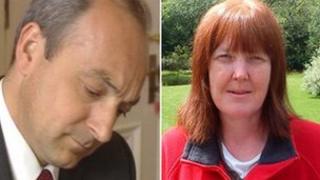 A blogger arrested for filming a council meeting has told the High Court she was "absolutely mortified" to be accused of "harassment" by the chief executive who she is suing for libel.
Jacqui Thompson, who has been writing a blog since 2009, said a letter by Carmarthenshire boss Mark James was intended to undermine her.
She had been ejected and arrested after refusing to stop filming in June 2011.
Mr James denies libel and is counter suing Mrs Thompson, from Llanwrda.
The High Court was told Mr James wrote a letter in response to Mrs Thompson's criticism of the council following the incident.
'Political criticism'
Mrs Thompson is suing Mr James and the county council for alleged libel over his comments - which were sent to 74 councillors and viewed 825 times after being republished on another blog.
She claims Mr James was wrong to say she was "running a campaign of harassment", because her actions were no more than reasonable "political criticism" and were therefore protected by freedom of expression laws.
Her lawyers told the court the letter was an attempt to "silence, discredit and undermine" Mrs Thompson, because she was regarded as a "trouble maker and a nuisance".
Speaking about the letter Mrs Thompson told Mr Justice Tugendhart: "I was absolutely mortified".
"I felt the only way I could make a stand and challenge what he was saying as being untrue was legally - it was the only way I could do it.
'Greater democracy'
"I felt other people would think a hell of a lot less of me; they would think I was insincere and a liar."
She said filming at council meetings was a 'natural thing to do' to enhance her blog.
"I felt it was a public space, there were public decisions being made by council representatives and it was public money being spent."
Mrs Thompson's barrister, Christina Michalos, said: "She is actually someone who has shown real courage and fortitude.
"She will have to go back to Carmarthenshire and it would be a tragedy and wrong if she had to go back labelled as an unreasonable harasser and with the entire content of her blog discredited."
Mr James and the council are defending the claim and Mr James has brought a counterclaim against Mrs Thompson - which is being funded by the council - alleging he was defamed by five posts she made on her blog.
Lawyers for Mr James and the council say there has been no infringement of Mrs Thompson's rights.
They said the letter by Mr James was 'necessary' to protect the rights and freedoms of others by maintaining public confidence in the democratic process and the authority's conduct.
"It is submitted that the issue here is whether her concerns about filming are genuine ones to bring about greater democracy or are the latest manifestation of her campaign," said Adam Speker.
"The defendants' case is that her focus has always been on targeting officers and councillors. It is the reason she writes her blog.
"It is the reason she goes to meetings - to catch people out - and it is, the defendants say, the reason she started filming meetings."
The hearing, which is expected to last at least a week, continues.