Pembrokeshire seaweed forager finds 'World War I mines'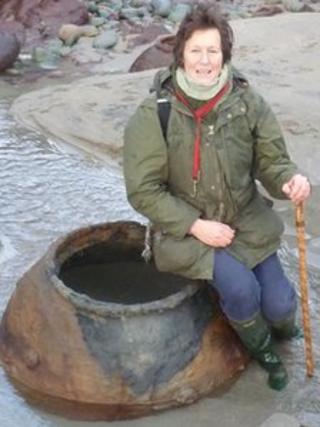 A woman foraging for seaweed on a beach in Pembrokeshire made a more interesting discovery - mines, believed to be from World War I.
Julia Horton-Powdrill was walking along Caerfai beach near St Davids when she noticed a mine during low tide.
She then discovered two more submerged in watery sand.
Mrs Horton-Powdrill has sent pictures of the mines to the Dyfed Archaeological Trust who have sent them to war historians for analysis.
She had gone to the beach on Wednesday to collect seaweed but said the sea was too rough.
"When I turned around and headed back up the beach I saw this very large iron object half submerged in the water," she said.
"At first I thought it was some sort of Roman pottery as it was quite rusty. Then my second thought was it must be a mine.
"I took some photographs and then realised there was another similar-sized one even more submerged further along."
To her amazement, Mrs Horton-Powdrill, who is a trained archaeologist but now runs foraging workshops, then discovered a third one lying on its side and with a hole in it.
"They were all quite close together in watery sand," she said.
"Personally I think the sea has been so rough and swirly recently that it's likely the sand covering them has been washed away.
"I have done a bit of research but it seems nobody knew the mines were there.
"I regularly walk on the beach and have never seen them before. So it's been a very exciting discovery."
Mrs Horton-Powdrill has contacted Dyfed Archaeological Trust and sent them pictures of the mines.
They have told her that they believe the mines are from World War I but have sent them to two historians who are keen to know more.
Local people say news of the mines is "surprising".
County councillor David Lloyd, an independent who represents St Davids, said: "It's very bizarre. I can't think of a reason for them to be there."
And Malcolm Gray, 62, who has lived in the area all of his life and was coxswain of St Davids lifeboat lifeboat for 47 years, said: "I remember one came ashore in Whitesands (beach) I think but that was when I was a kid, so about 50-odd years ago.
"That was disposed of and I haven't heard of one or known one around here since."