Deadly Topmouth Gudgeon removed from Millennium Coastal Park lakes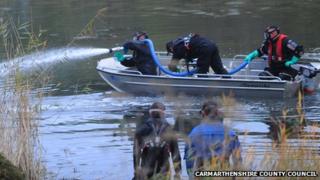 Work to remove a deadly fish species from three lakes at the Millennium Coastal Park in Llanelli is entering the second phase.
Topmouth Gudgeon arrived in the UK from Asia by accident a few years ago and carries a disease which can kill native salmon and trout.
Environment Agency Wales will use a chemical for the operation.
It says it is confident its eradication programme can rid Wales of the fish.
Two other lakes at the park were treated late last year and from next week, the agency will begin preliminary work to drain down the lakes and rescue the native fish.
'Totally outcompeted"
David Mee, fisheries team leader at Environment Agency Wales said: "We found these fish in the lakes here about five or six years ago, we think they were introduced 10 years ago with a legal introduction of carp, and they've very much taken over.
Mr Mee said the small fish were "dominating" the lakes and native fish like carp were "totally outcompeted".
"I've often described them as the Japanese knotweed of the fish world," he said.
The agency will rescue large native fish from the lakes before they draw down the water in the lakes and apply a natural pesticide from the root of a tropical plant to kill off the Topmouth Gudgeon, said Mr Mee.
"It's a very effective but we've got to do it at this time of the year, even when its so cold because it doesn't affect the eggs of the fish so we've got to do it outside the breeding season," he added.
Monitor
"So we're very confident that we can actually eradicate these fish from Wales."
Millennium Coastal Park is one of 23 established populations of Topmouth Gudgeon in England and Wales. Two of those populations are in Llanelli.
"This is the second phase of the operation. We'll take out these two lakes next week and then hopefully monitor them over the next year to make sure we've eradicated the Topmouth Gudgeon."
During the operation some paths in the Millennium Coastal Park will be closed to allow safe access to the lakes.
The closures which will be in place for three weeks.
Carmarthenshire executive board member for leisure services Coun Meryl Gravell said: "The Environment Agency programme will help us restore the lakes within the park in time to a healthy fishery that will enable us to engage with fishing clubs to help police and future manage the well being of the lakes."