Swansea ball boy Charlie Morgan tweets 'crazy 24 hours'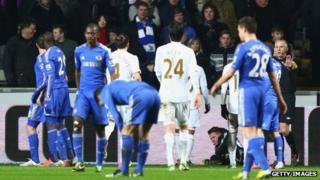 The Swansea City ball boy at the centre of the sending off of a Chelsea player has described the aftermath as "crazy".
Charlie Morgan, 17, son of club director Martin Morgan, tweeted that he will "not be pressing charges" against the European champions' Eden Hazard.
It later emerged the FA has charged Hazard with violent conduct, and South Wales Police ended their involvement.
Hazard was sent off in Wednesday's Capital One Cup semi-final for kicking the boy as he lay on the ball.
The Belgium international apologised after the incident at the Liberty Stadium but it prompted debate among football fans, players and pundits.
Early on Friday morning, the teenager tweeted: "Crazy 24 hours. Spoke to Hazard and I will not be pressing charges. Be in touch."
However, on Thursday police said calls had been received from "members of the public living in Sussex, Kent and west Wales which are being followed up".
On Friday afternoon, police said the teenager did not want to make a formal complaint and their involvement had ended.
Swansea beat Chelsea 2-0 on aggregate and will face Bradford City in the final at Wembley on 24 February.
Chelsea needed to score twice to take the game into extra time and it appeared Hazard lost his patience with the youngster after the ball had gone out of play for a goal kick.
The teenager fell to the ground as Hazard attempted to get the ball from him with the Blues midfielder then trying to kick it from under him, but instead he appeared to make contact with the youngster.
Immediately after the incident Chelsea and Swansea players went to tend to the ball boy, who was left holding his ribs, before referee Chris Foy produced a red card.
The saga sparked widespread debate and the ball boy's Twitter account attracted tens of thousands of new followers amid suggestions that he was time-wasting.