Dyfed-Powys Police precept could rise above £200 a year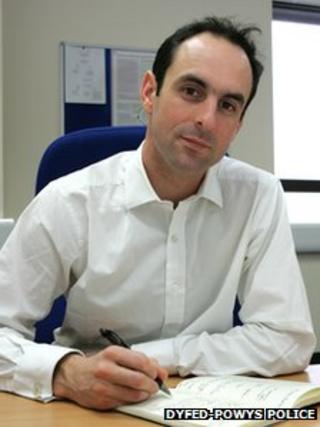 Some householders in Dyfed-Powys police force area face paying more than £200 for policing next year, if plans are approved.
Police and Crime Commissioner Christopher Salmon said the 3.9% rise was smaller than in recent years but would pay for "effective policing" on minimal cost.
The annual precept could increase from £198 to £206 for residents living in Band D council tax properties.
The budget for 2013-14 would be £98m.
Mr Salmon said he was aware of the "pressure" on family budgets.
"I have sought to balance the needs of our police service with the demands on families across Dyfed-Powys," he said.
"I am proposing a rise of 3.9%, down from the rises of between 4.2% and 5% of recent years.
"This produces a challenging but achievable budget for Dyfed-Powys Police that will enable us to protect service to the public whilst minimising demands on taxpayers. My aim is to bring rises into line with inflation over the next four years."
Mr Salmon said the increased budget would allow for investment.
The proposals will be considered by the Police and Crime Panel.