Golfer Richard Bentham's sentence for Usk road death jail extended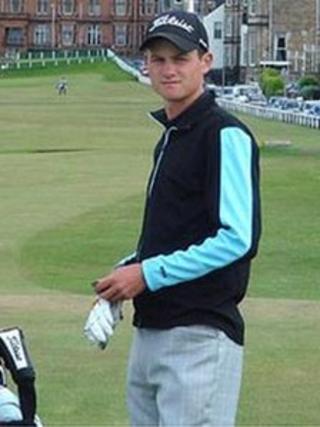 A golfer who admitted causing the death of a retired lecturer by dangerous driving has had his "unduly lenient" sentence increased.
Richard Bentham, 22, from Monmouth, was jailed over the death of Graham Howells on the A449 near Usk in October 2011.
The appeal court heard he had been "showing off" in his BMW sports car driving at speeds of up to 128mph, when he hit the camper van.
Judges raised his sentence from two years to three.
Bentham, a graduate of the Celtic Manor golf academy in Newport who took part in qualifiers for the Open Championship last year, pleaded guilty to causing death by dangerous driving at Cardiff Crown Court.
He was jailed in November for two years and banned from driving for four.
But the sentence was viewed as far too low by the Solicitor General, Oliver Heald, who referred the case to three senior judges.
On Tuesday, Lady Justice Rafferty, Mr Justice Keith and Mr Justice King, sitting at London's Criminal Appeal Court, concluded the sentence was too lenient.
The court heard that grandfather-of-four, Dr Howells, who lectured in Cardiff and Swansea, had spent the last 16 years in South America and had recently retired as English professor at the University of Brasilia.
Bentham initially claimed he had been going at "roughly 60mph" at the time of the accident and that Dr Howells' van was showing no rear lights, so that he failed to spot it.
However, CCTV evidence revealed he had been speeding for 11km before the collision, hitting a top speed of 128mph and driving at over 90mph when he hit the retired academic's vehicle, which was properly lit.
'Showing off'
The van was forced off the road and up a grass verge where it hit a post. Dr Howells died from multiple injuries and trauma.
Lawyers for Bentham pleaded special personal mitigation as a reason why his sentence should not to be increased, given the impact of jail on his budding golfing career and offering a number of positive character references.
But Lady Justice Rafferty dismissed those arguments.
The judge said that Bentham had been "showing off" before the crash, adding: "He didn't see the camper van until the last moment.
"It was white and it was properly lit. The failure to see it demonstrated gross inattention.
"The speed was grossly excessive at the time of the collision. The grossly excessive speed was the issue. Dr Howells' family will never welcome him back.
"I propose to quash the sentence of two years - it is unduly lenient - and I substitute one of three years," the judge concluded.